Projects
Equus Gas Project
The Equus Gas Project is an independently certified 2 Tcf gas and 42 MMbbl condensate resource (2C) located offshore about 200 km northwest of Onslow, Western Australia, at water depths of 1000m to 1200m.
The Equus Gas Project is a development ready gas and condensate project with a certified resource sufficient to supply:
2 to 3 Mtpa of LNG for 10 to 20 years from 2027 for export at a time when countries are seeking new long-term and reliable LNG contracts to support the energy transition.
>50 TJ/d for the Western Australian market from 2027 using the existing Dampier to Bunbury Natural Gas Pipeline (DBNGP) – the equivalent of 75 per cent of the gas consumed by residential and small business customers in WA each day.
Cost-effective development and use of existing offshore and LNG infrastructure, optimising the significant investments made by industry and governments in WA's north west.
In December 2022 Western Gas signed the following non-binding agreements:
A Key Principles for Gas Processing Agreement Term Sheet (Term Sheet) with the North West Shelf (NWS) Joint Venture to produce and export 2-3 Mtpa of LNG via the Karratha Gas Plant (KGP) from 2027.
A Gas Transportation and Processing Heads of Agreement (HOA) with Pluto LNG initially for transport of feedgas to KGP prior to capacity being available at Pluto Train 1, and processing at Pluto Train 1 once processing capacity becomes available. Target total aggregate production of 2-3Mtpa.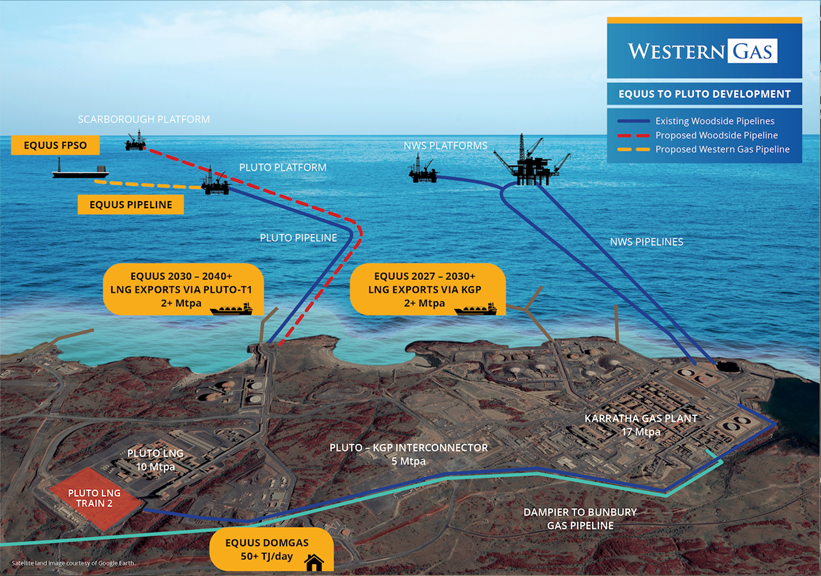 Development of Equus will be phased, with the first phase comprising three production wells linked by subsea infrastructure to a leased floating production storage and offloading facility. Processing on-board the offshore facility will include gas dehydration, gas compression and condensate stripping for export.
Dry sales gas will be transported via a new offshore pipeline connecting the Equus fields to the existing offshore Pluto A Platform in Commonwealth waters. Equus gas will then be transported onshore via the existing Pluto trunkline to the Pluto LNG facility and via Woodside's Pluto to Karratha Gas Plant (KGP) Interconnector to KGP.
Equus is the only independent proven resource ready to backfill LNG processing shortfalls, all other resources are in production or committed to existing LNG projects.
Western Gas has received WA Government support for the Equus development and LNG export using existing infrastructure subject to the application of WA's 15% Domestic Gas Policy.
More than US$1.8 billion has been invested in the Equus Project since 2007 in exploration, appraisal, testing, development and environmental studies.
To bring Equus into production we are collaborating with some of the world's leading companies and service providers.